Chalet and cabin holidays with dogs in the Alps
Dog friendly chalets and cabins in Austria, Switzerland and South Tyrol
Not every chalet in the alps is dog friendly. Therefore we list all dog friendly chalets in Austria, Switzerland and the italian South Tyrol, so you can enjoy your holidays with your dog easily in the alps.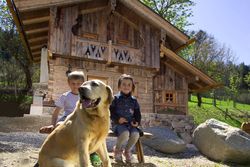 Here you will find our chalets in which dogs are welcome!!!

Dog owners are often have a problem to find a suitable accommodation. Huetten.com offers a lot of chalets for pet owners.
A chalet-holiday with dog brings much enjoy for the owner and the dog:
- fenced grounds
- large meadows
- cold mountain lakes
- extensive hikes

If you have any questions, our staff in our booking office are happy to assist you.
Hotline: 0043 463 / 55 0 80
No chalet fits your expectation for your holidays with your dog?
If you need support in the selection of your chalet or if you haven't found a nice cabin for your holidays with your dog, our huetten.com team may help you:
Call us:
From Austria, Switzerland or other countries: Tel. 0043 463 / 55 0 80
Free call from Germany: Tel. 0049 800 / 33 55 055
Available Monday to Friday, 8.00 - 18.00 o'clock
Even more cabins for your holidays in the alps