Ski vacation with dog in the Alps
Dog friendly ski lodges in Austria, Switzerland and South Tyrol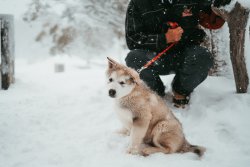 Fancy a ski vacation in the Alps, but you want your pet to come along? Then it's best to rent a dog-friendly ski chalet. The huts selected here are located in the middle of the ski area and allow pets during your stay. Perfect, then, to spend your ski vacation with your dog here in Austria, Switzerland or South Tyrol.
Each of our dog friendly ski huts have been checked by our hut team. Only the best dog-friendly ski huts we list here for you. Because if there's one thing we wish for, it's that your skiing vacation will be really cozy also with your dog.
If you have any questions about our dog-friendly ski huts and for direct recommendations for your ski vacation with dog, our hut team will be happy to help you. From Germany Tel.: 0 800 / 33 55 055 - from all other countries Tel.: 0043 463 / 55 0 80.
Rent your dog-friendly ski hut now: